Now Playing: Cruel War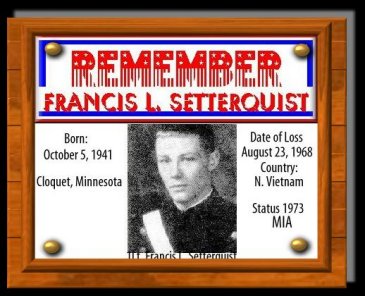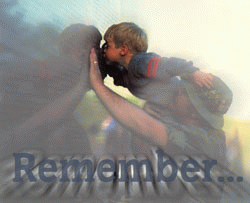 YOU ARE NOT FORGOTTEN






This is a name rubbing off the Vietnam Memorial Wall.
THE WALL.




Francis Leslie Setterquist

Rank/Branch: O2/US Air Force
Unit: 14th Tactical Recon Squadron, Udorn AFB, Thailand
Loss Coordinates: 175400N 1054900E (VE256146)
Status (in 1973): Missing In Action
Category: 4
Acft/Vehicle/Ground: RF4C

Other Personnel In Incident: Charles L. Bergevin (missing)
Source: Compiled by HomecomingII Project 15 March 1990 with the assistance of one or more of the following: raw data from U.S. Government agency sources, correspondence with POW/MIA families, published sources, interviews.
SYNOPSIS
On August 23, 1968, aircraft commander,1Lt. Francis L. Setterquist, and his navigator, 1Lt. Charles Bergevin, were assigned a low altitude night reconnaissance mission over North Vietnam. Their aircraft was the reconnaissance version of the F4 Phantom - the RF4C. The target area was about 50 miles northwest of Dong Hoi in Quang Binh Province. Clearance to proceed with the mission was granted and radio radar contact broken at approximately 8:30 p.m. No undue concern was felt until 10:59 p.m. when the aircraft was due back at Udorn and the fuel exhaustion point was reached and Setterquist's aircraft did not return to base.
A later North Vietnamese news release stated that an RF4 had been shot down, but there was no mention of the two man crew. Assuming Bergevin and Setterquist were able to successfully eject and parachute safely to the ground, it is doubtful they would be able to evade capture due to the large concentration of enemy forces in their flight area.
While loss coordinates maintained by the Air Force and Department of Defense indicate that Bergevin and Setterquist were downed in Quang Binh Province, North Vietnam, Joint Casualty Resolution Center (JCRC) records show a loss area of Thailand. No explaination is given for this discrepancy.
In 1973, 591 lucky American prisoners were released from North Vietnam. Bergevin and Setterquist were not among them. Since that time, the U.S. has recived nearly 10,000 reports of Americans still missing in Southeast Asia, and many authorities are convinced that hundreds of them are still alive. The U.S. has not been able to find a way to free any who may still be alive, or to obtain information on a significant number of other Americans who may have perished.

Francis L. Setterquist graduated from the U.S. Air Force Academy in 1966.



The POW/MIA ring was designed as an integral part of Operation Just Cause, which is promoting the adoption of individual MIAs by anyone who wishes to fight to obtain a full and accurate accounting of the men and women left unaccounted for in SE Asia. Join the ring so you, too, can pick up the Torch and Educate the public as to just who the MIAs are and what is, or is not being done to achieve an accounting. Encourage them to press Washington for acceptable answers.


Click the bracelet to find out about adopting your own POW/MIA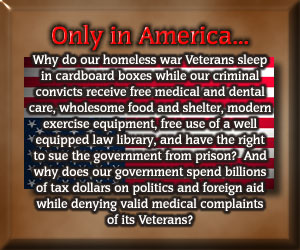 A Remembrance
Please Come For Me!
MINNESOTA
Minnesota's POW/MIA's - Our American Hero's

Gunny's Home Page
The Meadow Years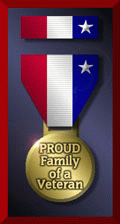 Their voices cannot be heard...But mine can!
E-Mail Addresses of:
The Whitehouse
Executive Office of the President
Congressmen
GOP Post Office
Senators
House of Representatives E-Mail by State


My first award! Thank you,
Steve & The Pow/Mia Forum!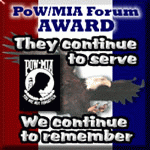 Visitor's Have Been Here(re-set 03/27/2000)

Send E-Mail by clicking the stamp





[HOME]
[PRAYERS FOR OUR CHILDREN]


Some Graphics on this page from:OJC GRAPHICS
Copyright © 1996-2002
by: Fullmoon Graphics
All Rights Reserved