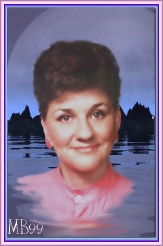 The backround on my photo was created
excluslivly for me by MARY,The Nomad Cyber Queen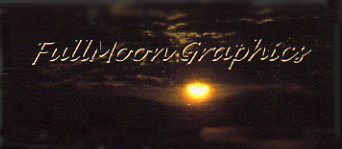 Welcome to FullMoon Graphics!
(update 2004) I've recently become quite involved in the music
industry so my time for this business is limited these days.
Summer months are no longer available but am able to do
web pages from October to March. I do enjoy this work and will
build your site as though it were my own.


If you are a Not-For-Profit (501-C3) and cannot afford
any monetary amount, I also love to barter,
so don't hesitate to ask!

Rates
2003 WEB RATES Basic Includes:
*Custom Backround
*Header Graphic
*Small head/banner
*Matching Button
*Matching Bar

Ask About:
*Photo Backrounds
*Listing with Search Engines
*Custom Personalized Web-Sets

*$10.00 per month to maintain site.

*Any reasonable barter offer will be considered!


Basic
page with border set,
up to 5 links and midi, $75.


Basic:
3 pages with border sets,
your choice. Midi, up to 5 links
per page, $100.


5 to 7 pages
with border sets or background,
midi, up to 5 links per page, $125.


10 pages
with border set or background,
midi, up to 5 links per page, $175.


Scanning images $5 each


Enhancing images $5 each


Any additions after
initial set up will be charged on
an hourly basis @ $50 per hour.

INDEX OF CLIENTS