"If you believe in forever,
Then life is just a one-night stand.
If there's a rock and roll heaven,
Well you know they've got a hell of a band."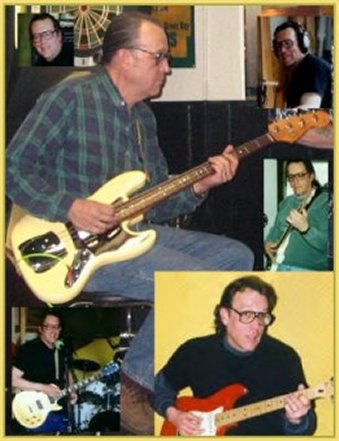 "Lay me down so gently, beneath this weary sod, for I have
shed my earthly bonds, and touched the hand of GOD."

John M. Syck, 63, of Duluth, died unexpectedly Saturday, Jan. 8, 2005
following a winter solstice jam session at his home studio.
He was born Nov. 30, 1941.
John loved to get together with his friends and make music.
He was known by many as a generous loving husband, father,
grandfather, brother, uncle and friend. John lived his life with
passion as he pursued his many interests and talents. His family
was the center of his life.
As a musician, he started in his teens to enjoy the many sounds
and emotions of music, a passion he pursued to the end. In 2004,
he was inducted into the Minnesota Rock and Roll Hall of Fame for
his remarkable professional work with the Titans.
John touched so many people in special ways.
He will be sadly missed. His music will live on forever.
'Hail Hail Rock and Roll'!






All is Well
Death is nothing at all.
I have only slipped away in to the next room.
I am I, and you are you
Whatever we were to each other, that we still are.
Call me by my old familiar name, speak to me in the easy way you used to.
Put no difference in your tone, wear no false air of solemnity or
sorrow.
Laugh as we always laughed at the little jokes we enjoyed together
Let my name be ever the household name it ever was, let it be
spoken without effect, without the trace of a shadow on it.
Life means all that it ever meant.
It is the same as it ever was: there is unbroken continuity.
Why should I be out of mind because I am out of sight?
I am waiting for you, for an interval, somewhere very near,
just around the corner.
ďAll is well.Ē



Henry Scott Holland
1847-1918
Canon of St Paulís Cathedral


The following photo's were taken at Mick Zengel's
CD release party in September 2004
L to R in most shots are John Syck, Dave Slattery, Mick Zengel
Pictures courtesy of Bev Zengel, Thank You!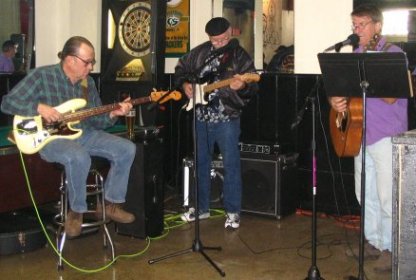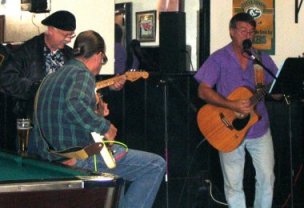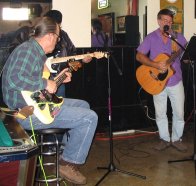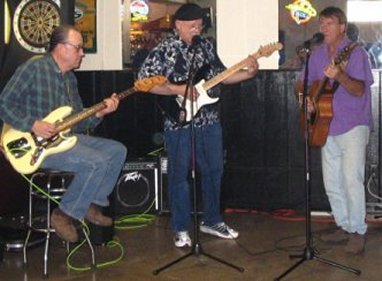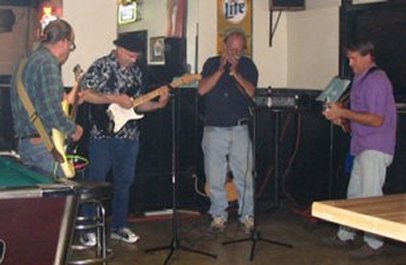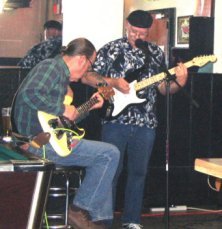 I wish I had John's talent for picture "captions" now!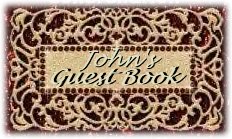 View John's Guestbook
Sign John's Guestbook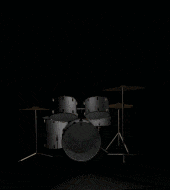 Memorial Page for BUTCH (TRUCKS) STEBNER
(If you go to visit Butch's page hit your Back button to return here)
***This is an excerpt from John's entry for Butch's guest book......
Name: John Syck
Comments: Death is a fact of life - something we all must face.
But that does not make it any easier to have a friend leave the
earthly band and join the Great Band In The Sky.
He always had time for kind words for everyone and made sure we
all felt at home in his presence. We spent a lot of Saturdays
jammin' in Mick's garage - what fun - those fantastic cymbol fills
and that syncopated beat - he played it like he heard it.
Now that big drum set is silent. Such a loss.
Good bye Butch, wait for the rest of the band...
We'll be playing with you someday.
Your friend, John
Friday, July 25th 2003 - 07:50:46 AM


Send Email Here


**Note** I've spent hours trying to find the perfect midi song
to place on this page for John...there is just NO ONE song that
will do, so I will change the music daily for the next few days.
Linda
Wednesday: How Can I Keep From Singingby Enya
Thursday: Somewhere Over The Rainbow
Friday:My Heart Will Go On (Theme from Titanic)
Saturday:Sounds of Silence
Sunday:Unchained Melody


Thank you for Visitng John's page, you are the
to visit the Great Band In The Sky memorial





Copyright © 2005
by: Fullmoon Graphics,Etal
All Rights Reserved