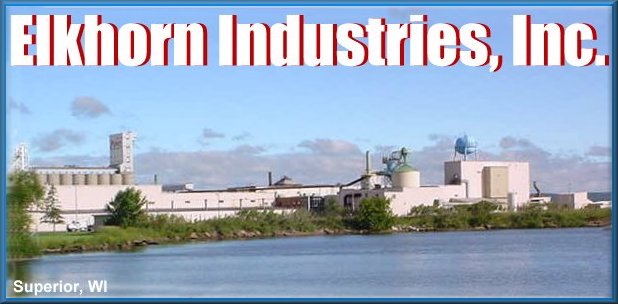 Purchase of the former Georgia Pacific (Superior Fiber Products) was accomplished in December of 2003. It consists of nearly 50 Acres and 200,000 square feet of Industrial Storage, Manufacturing, and Warehouse floor space. Deep water docks for Lake Superior vessels, a rail spur and truck/railcar loading docks. Our utilities include both a large city natural gas line and water main. Our own 100,000 Gallon water tower with process water capacity of One Thousand Gallons per minute to the building from Lake Superior through our own filtration system. Three 13,800 Volt Substations.

"ELKHORN INDUSTRIES is a full service warehousing and trucking operation, dedicated to offering a premium service with competitive rates resulting in total customer satisfaction."
Company Overview
Established in 2004 and in our second year of operation, ELKHORN INDUSTRIES, Inc. has maintained a strong company philosophy to listen to customer needs, create loyalty & trust and to provide a level of service that is second to none in the industry. We are situated in the former Georgia Pacific Hardboard plant in Superior, Wisconsin. ELKHORN INDUSTRIES has the capability to fulfill all of your warehousing and transportation needs. Personalized customer service, and local shipping makes ELKHORN INDUSTRIES the logical choice. Through the diversified services we offer, we are capable of meeting your special requirements with cost sensitive pricing necessary in today's economy. ELKHORN INDUSTRIES is your satellite warehouse in the Duluth, Superior area for full service warehousing, transportation and distribution. Providing long term storage and short term storage. Public Warehousing is probably one of the oldest businesses in the world. Since people started to manufacture items, there have been companies that stored and delivered them to the end user or the consumer. We have been involved in the storage and distribution of all types of products with all types of companies. Our expertise in public warehousing and container storage services is unparalleled. From our beginnings at the Port in Duluth, MN to our newest Chemical Division and Commercial Storage facilities in Superior, WI we are positioned to assist the most demanding of clients. No matter what our customerís requirements, from short term relief storage to deal with peak/load stock situations to full service distribution on an ongoing basis to established retailers or inventory management. Our warehouses are specifically designed for the discerning public warehouse customer whose products require that little bit more care and attention and with the availability of specialized transportation services for deliveries; ELKHORN INDUSTRIES is able to offer solutions to our customers no matter what their requirements. Our logistically placed warehouse facilities are able to receive inbound goods by Road, Rail or Lake Superior Shipping, so no matter where your coming from, we will be there to receive and distribute your valuable merchandise as if it were our own.

Chemical Services


Elkhorn Industries, Inc. Chemical Division is located onsite. Our tank room has Nine 20,000 gallon storage tanks with agitation capability and a number of 5000, 7000, and 8500 gallon storage tanks. The mix area has several mix tanks ranging in size up to 7000 gallons.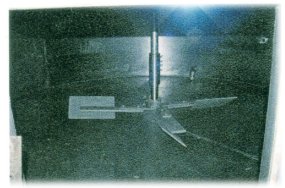 Every batch is Quality Controlled and Tested to assure the customer's exact specifications. A Certificate of analysis sheet goes out with each load.
Warehousing Services
ELKHORN INDUSTRIES operates out of its Lake Superior Port side facility, spanning over 193,000 square feet of public storage space. We are equipped to unload rail boxcars, trailers, containers, vans and flatbeds. Our fully trained staff will inspect, count and verify all receptions, maintain accurate inventory levels on our computer system and expedite your orders.

Transportation Services/Freight Handling
Offering a full range of trucking services, ELKHORN INDUSTRIES is your personal freight management consultant. We can handle all types of domestic & import cargo - from an envelope to a truckload with company owned and maintained power equipment. If product storage is an issue, we can warehouse your product onsite. We have a Flatbed and Van division, along with a Heavy Machinery/Oversize Transport division. If it can go ON or IN a trailer we can haul it! Serving all 48 states and Canada. We also accomodate Train to Truck deliveries. When you combine the finest local transportation service with a long haul freight procurement division, you only need to make one phone call to move your product anywhere in the United States. We have our own tanker/trailer division for flexible delivery schedules. We can transload from rail car to our tanker trucks for special applications. Additionally we offer a "keep fill" system with customer's facilities. Totes are an added option.

Services:
Custom Formulation
Formula's matched to your system
Product Testing & Development
Assist with testing in your application
Develop products to meet your needs
Application Equipment Assistance
Assist with design and installation

Products:
Water Based Maintenance Paints
Colors to match your use, safety paints for
handrails, stairways, machine guards, etc.
Solvent free for easy storage, clean up and
use. No harmful fumes!
High Gloss and fast drying.
Biodegradable Antifreeze
Use to keep Coal, Chip and Aggregate piles
loose and workable
Release Agents
Asphalt Release, Press Release,
Form Release, Mold Release
Flocculants
Solids separation for Wastewater Treatment
Defoamers
Industrial, Water Treatment, WESP
Many More Products Inquire below

Contacts

ELKHORN INDUSTRIES, Inc strives to find Environmentally Friendly Alternatives that can save you money. Our professional management team can answer any question you might have about our operation. Our staff has the knowledge and expertise of all warehousing and trucking procedures including import/export, rail moves, weighing, sampling, and term storage. We are based here in the Northland so service is local.




If you would like to inquire about our services, please contact:
Elkhorn Industries, Inc.
Erik Monge - Manager
P.O. BOX 367
Superior, WI 54880
Phone: 218-348-6161
Fax: 715-394-4561
Customer Service/ELKHORN INDUSTRIES

You're the
th prospective client to visit Elkhorn Industries, Inc.

Copyright ©2005
This page created exclusively for
ELKHORN INDUSTRIES Superior, WI
by: Fullmoon Graphics
All Rights Reserved